Cool Sites to Visit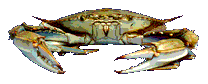 This site, "Crabbing - All About Blue Crabs," is the most extensive resource on the Internet for recreational crabbing. Here you will find detailed information on the blue crab life cycle, identification, state laws, tide, weather, catching, steaming, picking, recipes, freezing, feasts, stories, and resources.

Wandering around PepperFest will make you work up one big appetite, so don't wait too long before you call on Chef Claude. He lives by two words--"Let's Eat". You'll love searching his online TABASCO recipes for almost 300 mouth-watering favorites. Maybe after you get a bite to eat, you'll want to visit Arts & Games. Here's where you can stop by the Post Office and send friends a PepperFest postcard, download our new foot-tappin', knee-slappin' screensaver, or peruse the work of some talented local artists. Everybody at PepperFest is just waitin' to show you a good time. So relax, stroll around the place, and share your love of the hot stuff at the TABASCO Message Board.

Great recipes and all you could possibly ever want to know about beef can be found at the Beef Home Page. Enter the "Best New Beef Products Awards - 2000" and you could win up to $100,000! For more information, go to the New Product Contest area. The Beef Grilling recipes offer a variety of ways to serve beef. Try Fajitas-On-A-Stick, Grilled Herb Mustard Steaks, or Jalapeno Cheesburgers this weekend! Also, New research published today in the Archives of Internal Medicine comparing the impact of lean red and white meat on blood cholesterol levels finds that a diet including 6 ounces of lean red meat consumed five or more days a week may actually reduce the risk of coronary heart disease (CHD).

From their home at historic Fisherman's Wharf on the beautiful San Francisco Bay, the folks at the Blue Point Oyster Company know well the delicate balance between man and the sea. Unlike never before in history are our marine resources threatened. The purpose of this site, aside from bringing you the freshest, top quality Atlantic and Pacific seafood, is to foster an understanding of the true fragility of this delicate web we so depend upon.


Go to Texas Cooking Online for great articles and recipes from the southwest. This site includes a search engine, live chat, and much more. Texas Cooking Online is an online service based in Austin, Texas. they are a growing company that seeks to bring the exciting world of food and Texas living together in a network of websites.